JV EnCorps: Mary Davidson
JV EnCorps (JVE), a program of JVC Northwest, recruits and supports volunteers 50 and older in part-time, meaningful service positions where they have a direct impact on people living on the margins.
NONPROFIT TALENT: Teaching, organizing, building community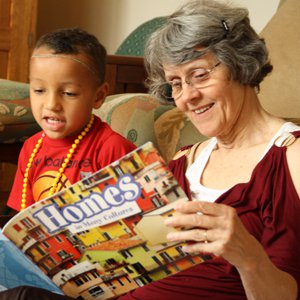 Mary Davidson, Encore Volunteer
Mary Davidson built on 40 years' experience as a Montessori teacher, PTA chair and church leader to define her own JV EnCorps projects, with a focus on serving her community, bringing diverse people together and giving kids a strong educational start.
First, she led the Springfield (OR) Shelter Rights Alliance, a consortium that improves conditions for people who are homeless or at risk of homelessness. Mary's experience of working in community helped her engage organizations to raise awareness and support; she also focused on policy issues to create longer-term change. As a result of her work, three groups of stakeholders created five temporary shelters in a city that previously had none.
In her second year as a JVE volunteer, Mary launched a free Montessori program for local children from low-income families. She says, "Watching children learn in a Montessori environment is always inspiring!" 
Volunteer management advice
Her advice to nonprofits that want to engage encore talent: Allow your volunteers to follow their hearts. Support them in making their time with others meaningful for all. Create opportunities for like-minded people to share their thoughts, feelings and questions.