Spread the word that you welcome encore-stage volunteers, and refine strategies to include them. Networking and word of mouth offer the most promise, according to a Conference Board survey of nonprofits. Additional resources: your website and social media, volunteer recruitment centers and websites, and organizations that recruit encore talent.
Networking and Word of Mouth
Ask people in your network about others with the talent mix that your organization needs. Here are some ideas for leveraging existing networks:
Employees. Your employees understand your culture, and are in a good position to spread the word about volunteer openings and/or talent needs.
Volunteers and donors. Volunteers and donors may be open to expanding their commitments. Many donors seek engagement that goes beyond the checkbook, as the National Council of Nonprofits recognized in their 2015 trends report.
Board members. Your board members are ambassadors to industry and community leaders. Their networks are potentially rich reservoirs of SBV encore talent.
Community networks and partnerships. Community networks and partnerships get you in front of people 50+. To recruit encore talent, connect with organizations that focus on the 50+ population. AARP, Area Agencies on Aging and community centers are examples of possible partner organizations. Places where people gather also build awareness: faith communities, health clubs, condo associations, senior communities, libraries and social clubs.
Professional associations. Associations for lawyers, HR specialists, accountants and health care workers and finance professionals are networks where you might find interested professionals. For a database of professional associations, visit the Career One Stop Business Center.
Corporate networks and retiree groups. Companies with active employee volunteer programs can extend impact through SBV with their 50+ employees. Additionally, corporate retiree groups often have volunteering components.
Colleges and universities. Higher education is exploring new models to engage the 50+ demographic. Some institutions have noncredit encore transition classes. For example, Pace University in New York offers an Encore Transition Program for executives and professionals, and the University of Minnesota offers an Encore Transitions series. Academic retiree groups often incorporate volunteering. For example, the University of Washington's encore initiative connects UW community members with social-impact opportunities.
Conferences. Encore-stage professionals often attend nonprofit conferences to network and learn more about specific sectors.
Those who approach you. Keep a master list of people who approach your organization, and include them in your outreach.
Your Website and Social Media
People interested in your organization will find you online. Review your website and social-media presence to ensure inclusive messaging and multigenerational appeal.
Your website. Be sure that online images accurately reflect the diversity of your employee and volunteer base, including age diversity, and that the site invites visitors to look further. Does your volunteering section clearly welcome people of all ages? Are volunteer positions written with attention to key encore motivators, and do they leverage skills that encore volunteers want to share? Do you invite users to propose ways to volunteer?
Social Media. Adults age 50 and up are one of the fastest-growing demographics when it comes to social media. Be sure your Facebook, Twitter, LinkedIn and Instagram sites reflect age diversity to build credibility with the 50+ population.
Brandy Kramer, Volunteer Coordinator, Spring Institute for Intercultural Learning
"You're doing your organization a disservice if you don't think about boomers as a resource and invest time in recruiting them as skilled volunteers. They have great experience, knowledge and networks that will help you accomplish a lot more than you could without them."
FEATURED RESOURCES
Recruiting corporate volunteers
Recruiting Encore-Stage Board Members
Boardsource.org provides tips and tools.
Boardnetusa.org offers a matching search engine.
Bridgespan promotes board opportunities on its website.
Local professional organizations (i.e., lawyers, CPAs) may also be good resources.
AARP-MN's Facebook page is used to build community and raise awareness. Through a series of Hometown Hero profiles, AARP-MN recognizes outstanding volunteers.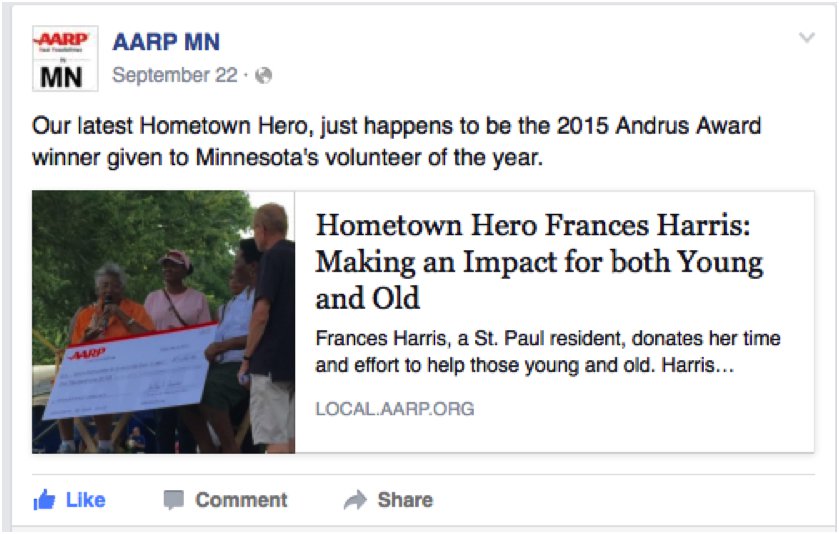 Pinellas County, Florida, prominently displays older adults in their marketing volunteering marketing materials, incorporating language that reflects encore-stage motivators.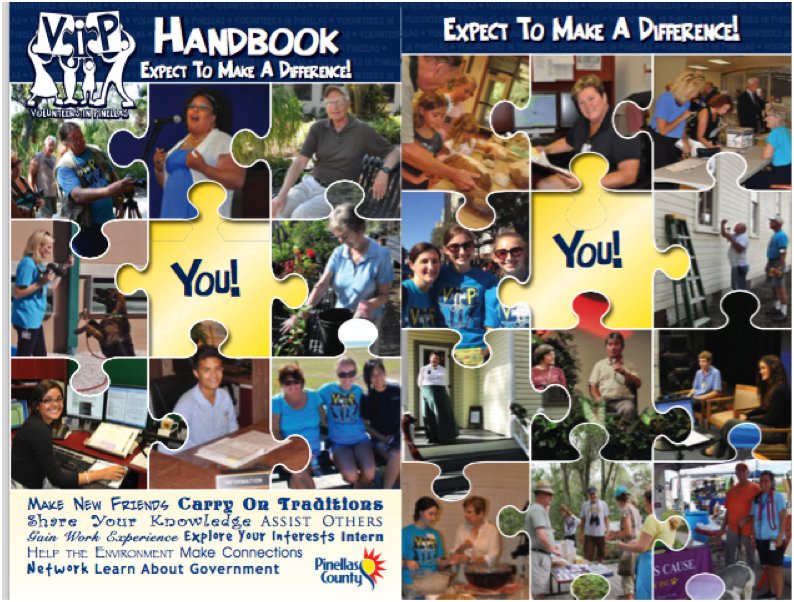 Organizations Facilitating Encores
Established volunteer programs provides structure, training and placement and can be great sources of encore talent. Volunteers typically commit for a specific time period or project; some earn stipends or transferable education benefits. Consider these examples: link to Resources page
Boomers Leading Change in Health appeals to encore-stage adults by highlighting impact, social change and measurable results.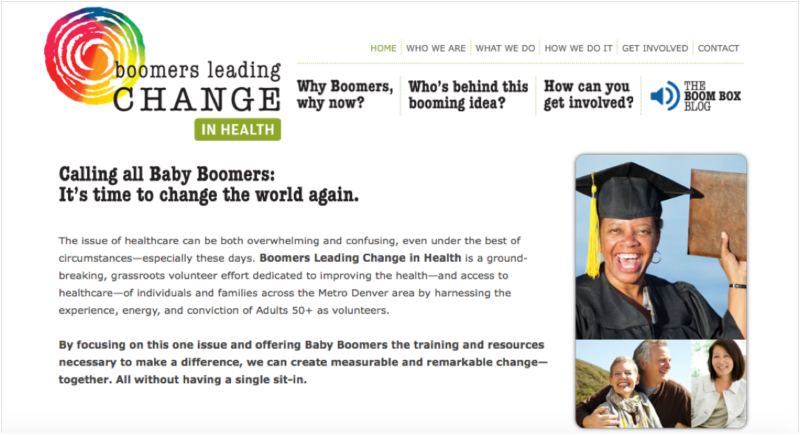 ReServe connects skilled volunteers with social-impact organizations. They recruit volunteers via word-of-mouth, orientations, a speakers program and community events.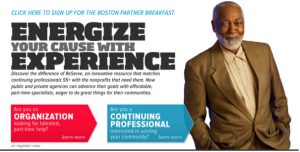 LinkedIn is a growing resource for finding skilled volunteers. Nonprofits post opportunities and can sort LinkedIn's database to find potential volunteers.