Senhoa Foundation supports vulnerable persons and survivors of human trafficking through prevention, rehabilitation and advocacy.
NONPROFIT TALENT: Corporate skills, Peace Corps experience build a global human rights nonprofit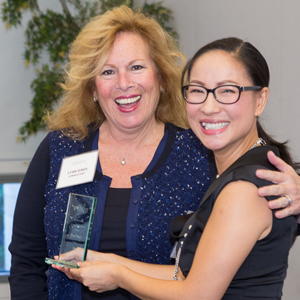 Lisa Nguyen, Executive Director (right), Lynn Dines, ESC of Southern California, consultant (left)
Three years after Senhoa Foundation's launch, its board recruited an Executive Service Corps of Southern California consultant to provide leadership coaching for its executive director, as it transitioned from a founder-led organization to sustainability. Consultant Lynn Dines came to the assignment with for-profit experience in marketing, project management, HR and new ventures, as well as a Peace Corps stint in Morocco.
Partway through that project, Senhoa's executive director left and its founder, Lisa Nguyen, stepped into the role. Lynn recruited an additional consultant and modified the engagement to include a strategic planning process.
NONPROFIT BENEFITS: Solutions-oriented approach and strategic planning

Lisa noted, "In 2013, we were a very young nonprofit in much need of guidance to improve and organize our operations and leadership. We knew that ESC was experienced in providing management development services and loved the idea of matching with retired business consultants who volunteer their time to help nonprofits."
"Seasoned consultants have seen it all and come bearing all of the brilliant advice, strategies and patience that they've developed over years of strengthening and driving their clients' companies' missions forward. We are blessed to have worked with ESC's enthusiastic and sage consultants and gladly reap the benefits of their decades of expertise. "
Lisa says that the Executive Service Corps consultants "focused on what needed to be solved" to guide development of Senhoa's strategy. She noted, "We now have a living, breathing strategic plan and we are working as a team to address critical items. It is an organization-wide effort – it was an entire organization coming together to create this guiding document to next steps."
ESC consultants continued to coach Lisa and Senhoa's leadership team to ensure that the plan's action items were carried out, with good results: Senhoa received two awards recognizing the power of its mission and its effectiveness. "ESC consultants identified where we needed support and helped strategize about how to tackle those issues," says Lisa. "This outsiders' perspective pushed us along as a team. We can't measure the value of their services and what they have given us." Now that Senhoa has completed its strategic plan, Lisa has asked ESC to work with them on a third project: board development.
VOLUNTEER MANAGEMENT:  Maximize benefits and impact
Lisa's advice for nonprofit leaders working with encore talent: "Practice patience when getting to know your consultants and delving into the work ahead. Hear them out. Even if you do not initially agree, remember they've got decades on you and have been doing this for a long time!"
"Also, be open to corporate structures and systems; don't be afraid to adopt their principles just because you are a nonprofit. The ultimate goal of a nonprofit is to create more impact and help more people, and to do that you need to achieve the goal of all corporations: maximized profits and value for shareholders."